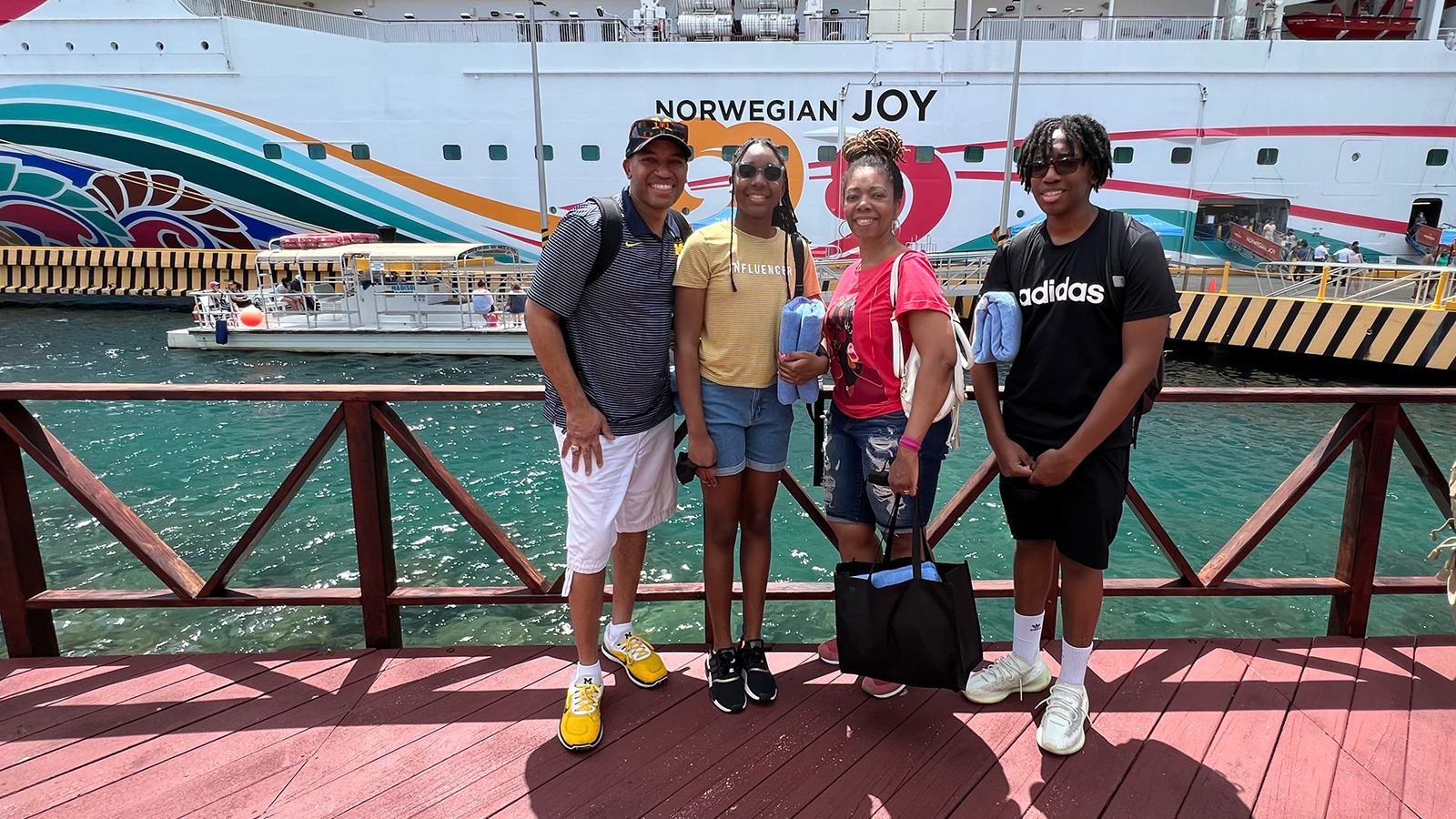 In the fall of 2021, my family decided to book a cruise. My parents have gone on a cruise each year for the past decade or so, and were planning their first cruise since the COVID-19 lockdown. They always raved about the food and the relaxing time they have when they go. At the time, the Delta variant was starting to wane and they wanted to cruise again. We booked our trip for a last-February West Caribbean cruise with Norwegian Cruise Lines. Here are a few of the things that I learned on our journey.
Planning and Booking the Trip
As we evaluated different cruise options, we looked at Royal Caribbean and Norwegian. My parents wanted to sail on one of the newer ships, so we considered the Norwegian Encore and the Royal Caribbean Symphony of the Seas, both sailing out of Miami. We were looking for 7-day cruises to the Caribbean. Norwegian had a "limited time" Free at Sea promotion with discounted fares and a bunch of freebees – free premium beverage package, free internet, free excursions, free specialty dining, and free airfare for the second passenger. When you read the fine print, you discover that the "free" beverage package comes with a charge of $138.60 per person for the gratuities and service charges, the free internet is for the 250-minute package, the free specialty dining is for specialty two meals per person and a $31.60 service charge, and the free excursions are $50 off at each port for the first guest only.
We ended up booking our cruise on the Norwegian Joy because of the cost of airfare. At the time we were pricing flights to Miami, they average around $700 per person. Costco Travel offered the same trip without airfare that included all the Free at Sea items for half the price, but when you add the airfare back in it was about even. I assumed that the "limited time" Free at Sea promotion with the coundown clock was a gimmick, and I was proven correct. When the time expired, it started back up with a new clock with the same deal. So if you see this deal, don't feel like you have to rush. We booked our trip directly with an NCL agent named Hector. He was very helpful in talking us through different options and costs. We ended up booking our cruise on the Norwegian Joy, a sister ship to the Encore. The Joy departed on a Saturday, which was better for our schedules. We were able to book adjoining Oceanview Staterooms (no balcony) with one room in my name and one in my wife's name, with the plan for us to sleep in one room and our two kids in the other. My parent reserved a balcony room, but that option would have pushed us over our budget.
After booking the cruise in October and paying a small deposit, we had until December to pay the balance. We learned that our two rooms were booked under two different reservations, which meant that in order for our flights to be guaranteed together, we had to sign up for their Travel With Guarantee, which costs $25 per person. This seemed like an unnecessary money grab, but we begrugingly paid it to avoid the risk of us leaving or returning at different times. We also had no choice over which airline we would fly or the times that we would fly. My parents took advantage of their free deviation program, which allowed them to fly to Miami a couple of days early. We got our flight assignments in early January. We were booked on a 6:10 am flight to Miami with a connection in Philadelphia, landing around 1:00 pm. Given that both of these are cold weather cities in the middle of the winter, I was a bit concerned. I immediately called the air travel department, but was told that they could not make any flight changes. What I learned from this experience is to book my own flight, and to arrive in town at least one day early. It would have saved me a lot of stress.
A few weeks before our departure we received an email about the Norwegian Upgrade Advantage Program. This program presented a couple of upgrade options and allowed us to submit a bid for a room upgrade. We had the option to upgrade our Oceanview Stateroom to either a Balcony stateroom or a Club Balcony Suite for a bid of $25 or more per person. We decided that the advantage of getting a balcony was worth the risk of losing our connecting rooms. We submitted bids of $30 for the Balcony Stateroom and $40 for the Club Balcony Suite. A few days later, we were notifed that our bids were accepted and we were moved from fifth floor Oceanview staterooms to connecting thirteen floor Club Balcony Suites! With our accommodations settled, we were ready to sail in about a week. All passengers were required to take a COVID-19 PCR test 96 hours before departure. We took our tests two days before departure and all test negative. This proof of a negative test would be required if we happened to test positive at the port.
Day of Departure and Pre-Boarding
To catch our 6:10 am flight we planned to leave the house at around 3:00 am. The overnight forecast had changed to wind and snow, and we were met with a blizzard when packing the car. Knowing that we had a connecting flight in Philly, there was little room for error. When we arrive at the airport, I noticed that there was a wind advisory. Soon after, I was notified that our flight was delayed to 7:18 am. This was cutting our layover time from an hour and forty-five minutes to under an hour. The departure time kept creeping back. We eventually boarded the plane around 7:30 am, then the plane had to be de-iced before takeoff, adding another thirty minutes. We didn't leave the ground until after 8:00 am. Given the fact that we were scheduled to arrive in Terminal F in Philly and had to board in Terminal B, things seemed hopeless. The plane landed around 9:15 am, and we were able to catch a shuttle to Terminal C and sprint to Terminal B, making our flight with a few minutes to spare. The flight took off on time at around 9:45 am.
We landed in Miami on time and met the Norwegian Cruise Lines staff in the baggage claim area. They got us tags for our bags and we boarded a shuttle to the terminal at Port Miami. Our first stop was handing over our bags to the porters, then we were taken to the check-in area where they verified our passports and COVID vaccination cards and administered a rapid COVID-19 test. We waiting in a large room for 20 minutes to get our results, then proceeded to the check-in desk to get our room keys and sign some documents. We then boarded the ship. My parents were already on the ship, and we were able to spot them on their balcony during the walk up. When we arrived at the rooms, our bags were outside of our doors.
Ship Overview and Accommodations
The first thing that we noticed when we boarded the Norwegian Joy was how massive the ship was. The ship has 20 floors and is 1,094 feet long. This is one of the newer ships in the Norwegian fleet, built in 2017 and refurbished in 2019. Our Club Balcony Suites have a balcony with two chairs and a small table outside of a sliding glass door. Our room was configured as a queen bed (the mattress covers zip together to form a single bed) and the kids' room was configured as two twin beds. There was a large sofa, a wall-mounted television, counter space and a large closet. The bathroom is larger than an standard room, with double sinks and a larger shower with spray jets. Additional amenities included the ability to pre-book onboard entertainment and dining, a complimentary bottle of champaign, and treats delivered nightly. We were also surprised with towel animals each night after the evening cleaning and turn-down service. One other amenity that we weren't able to take advantage of was one bag of complimentary laundry service.
After we got settled in we walked around the ship. You immediately notice the presence of the friendly staff. There is always someone to greet you, and everything is kept spotless. Given the current concerns with COVID-19 transmission, it would good to see an abundance of hand sanitizer and staff frequently wiping down elevators and stair railings. All were required to wash hands or use hand sanitizer before eating, and most on the ship were wearing masks in common areas.
It took a while to become familiar with where everything was on the ship. Floor 5 was mostly staterooms. Floor 6 was the main lobby area, hospitality, and a few bars and restaurants. Floor 7 included the Joy Theater, the casino, more restaurants, and The Waterfront, a walkable promenade around most of the ship. Floor 8 includes shops, the duty free shop and more restaurants. Floors 9-15 were mostly staterooms. Floor 15 was the location of the Observation Lounge, which had a multi-story bank of windows that looked out over the front of the ship. Floor 16 had the Garden Café, The Galaxy Pavilion and arcade, The Entourage teen club and the spa. Floor 18 was the pool, the sundecks and the Spice H20 adults-only area. Floor 18 was the Joy Speedway go-cart track and the water slides. Floor 19 was mini-golf and additional sun decks. Floor 20, on the roof of the front of the ship, was Laser Tag. So much to see and do!